Renewed at the end of 2015, the regional aircraft manufacturer ATR's EN 9100 certificate has been reinforced by an internal reorganisation aiming for flexibility in a transversal approach. The company elected AFNOR Certification to audit its quality system.
Originally holding an EN 9100 certificate since 2003, the regional aircraft manufacturer ATR decided to deepen its quality approach in late 2014. "Our audit-cycle was close to its end and we wanted to seize this opportunity for an in-depth revision of our quality management system, in order to build something new while at the same time anticipating the 2015 version of ISO 9001 standard. That's why we re-engineered our quality management system around new processes and opted to postpone our certification-audit a few weeks back in order to follow through with our ambition", recaps Sandrine Bergé, head of quality management. The company has revised its organisation in-depth: processes, after being examined from all sides, now cover multiple operations. No more repeat of the same process in three different departments, the new approach is all about breaking down barriers. "For example, we have created a set-up-management process, which covers every step from the first order of a client until the delivery. We've also implemented a Provide Customer Support process, which tackles all client-related enquiries. All this helps avoid silo-vision".
An instructive audit
In October 2015, ATR renewed its commitment to EN 9100 for all its activities on both sites of Toulouse and Blagnac. "Being certified is a pre-requisite on our market. Rather than merely put up with this reality, we have always chosen to take it as a chance, points out Sandrine Bergé. The EN 9100 certificate more than ever asserts the relevance of our organisation and our attachment to conformity and customer satisfaction. It places us in a continuous-improvement dynamic." ATR also chose to change its certification body and opted for AFNOR Certification. "It was the first time we were offered a preparation phase, which we found particularly enlightening. Over the course of an entire day, we took the time to share the context and specific situation of the company, our expectations but also our stakeholders. From this step on, the vision of our two auditors confirmed our reorganisation choices", states Sandrine Bergé. "Our auditors had a significant background in the aeronautic sector, she adds. They led the audit in a very instructive manner, bringing added value beyond the mere standard-conformity, especially regarding best practices and benchmark."
Getting everyone on-board
ATR now wants to prioritize the staff's adhesion. "This is the true challenge of continuous improvements. We want to build an in-between processes collaborative and mutual aid culture, far from the conformity/non-conformity mindset. For example, our process coordination meetings, organised every three months, have become moments when people share their best practices, in order to replicate them elsewhere. It enables everyone to focus on the positive, to personify and embody the system, as well as to speak openly about shared problematic."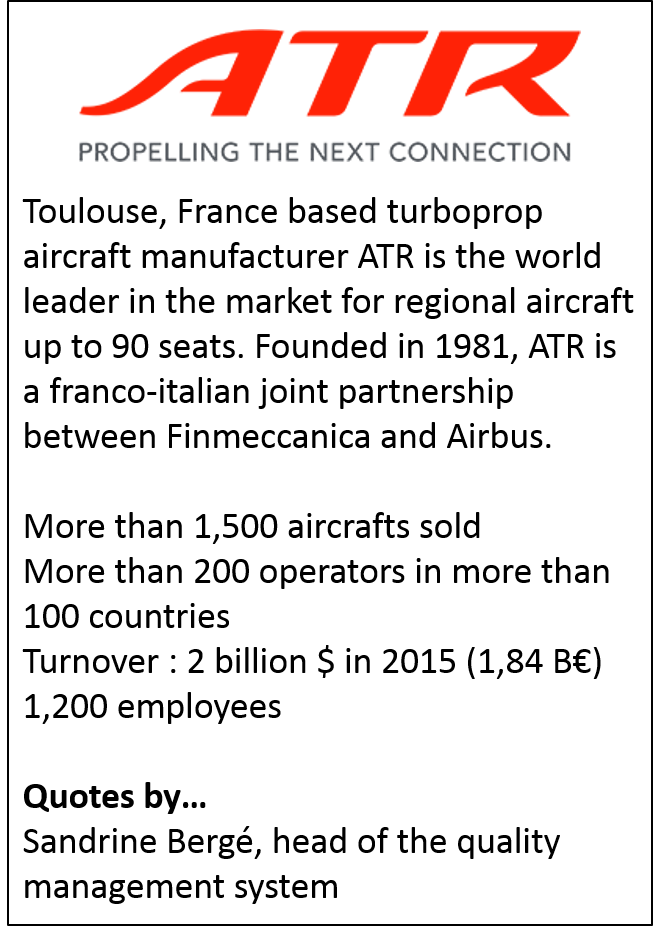 EN 9100

By choosing a certification AFAQ EN 9100 (quality management system in aeronautical, space, defense), you secure your production activities and maximize your business organization.
Find out more about the EN 9100
This post is also available in FR.