Sign up to le Mag's newsletter !
By subscribing to le Mag's newsletter, you will receive every two months the essential of AFNOR Certification's news.[columns_row width="half"]
[column]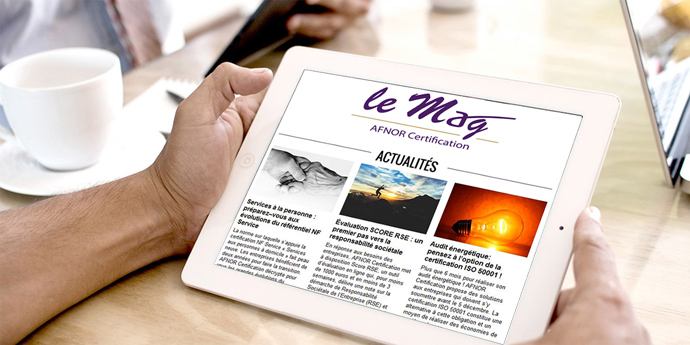 [/column]
[column][contact-form-7 id="885″ title="NEWSLETTER GB"][/column]
[/columns_row]The named information that is collected is to be used for the purposes of internal and/or external exploitation or of promotion of the standardization, certification, and consulting/training/or information activities of AFNOR. Pursuant to the French Data Protection Law No. 78-17 ("Loi Informatique et Libertés") of January 6, 1978 as amended in August 2004, you have the right to access, delete, amend, and rectify the data about you and/or to object to that data being sold or otherwise transferred to third parties. To exercise this right, you should write to the following address: AFNOR, à l'attention du Responsable du système d'information marketing/commercial (for the attention of the Commercial & Marketing Information System Officer), 11, rue Francis de Pressensé – 93571 Saint-Denis La Plaine Cedex, France.