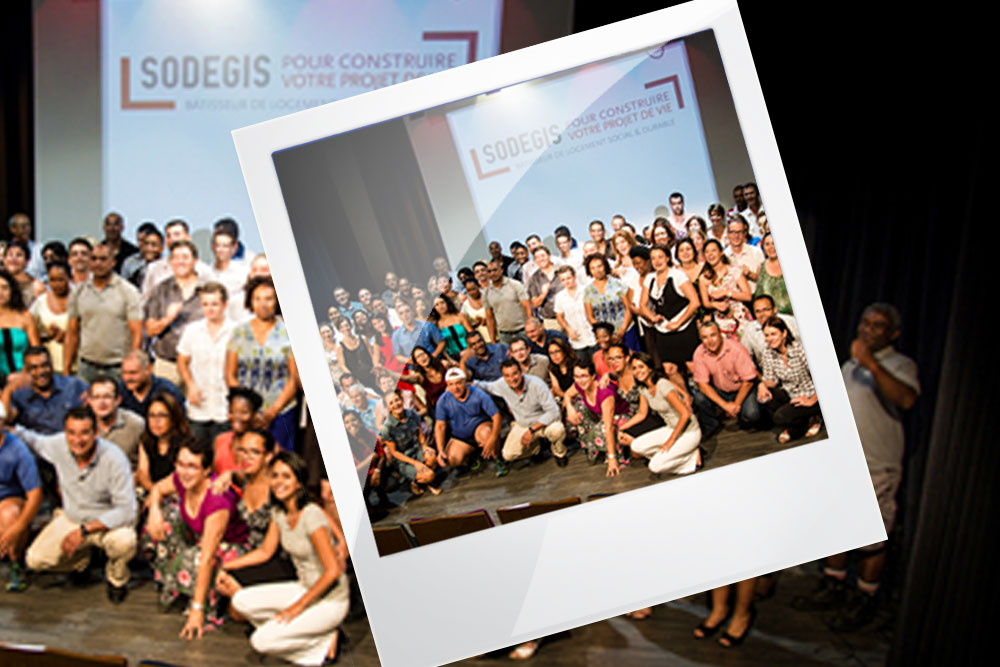 SODEGIS, a social and sustainable housing contractor whose ISO 9001 certification was renewed late 2014, is drawing strength from its quality strategy to improve its contribution towards sustainable development. SODEGIS is currently the first organization in Réunion to undergo an AFAQ 26000 assessment. Read on for an explanation…
SODEGIS is actively pursuing its corporate plan aimed at helping its residents "build their life plans", which goes far beyond the already complex service of providing housing. Presently employing around 100 people, the organization has been using the ISO 9001 quality management standard since 2012 to strengthen and create a more robust organizational structure by requiring all employees to raise the quality bar on the services provided and therefore improve customer satisfaction. This is one of the virtues of the most widely used management standard in the world : it allows companies to rethink their organizational structure, adopt new reflexes and create a collective driving force within the organization.
From quality through to social responsibility
Leveraging its mature quality organization, SODEGIS has launched a wider approach this time to improve its contribution towards sustainable development. SODEGIS' corporate social responsibility strategy (CSR) has prompted employees to raise questions about the economic, environmental and social aspects of the initiatives that the organization has implemented. By making CSR the backbone of its corporate plan, SODEGIS has sent out a clear signal about its determination and commitment to build a constructive, effective and responsible approach that will confirm the social value of its services across Réunion. Why seek an independent assessment ?
SODEGIS is clearly aiming to move forward and offer complete transparency by assuming accountability for the impacts of its activity and transforming such impacts into positive benefits by taking account of its stakeholders' requirements (customers, local authorities, partners, etc.). "The quality management approach was an asset in reaching that aim. It has enabled the company to look towards the future and improve its performance" explains Violette Debenay, consultant at RSE Conseils and AFAQ 26000 assessor for SODEGIS late 2014.
A CSR assessment with the "Confirmed" rating
AFAQ 26000 is an independent assessment into the maturity level of the organization's social responsibility strategy. The assessment is based on ISO 26000, which provides guidance on organizational governance, human rights, labour practices, the environment, consumer issues, community development and stakeholder relations.
The assessment conducted by AFNOR Certification lasted one week : over 50 SODEGIS employees and external contributors were questioned about their perception of the organization's strategy. With a score of 548 out of 1,000 points, SODEGIS achieved the "Confirmed" rating, which is the third highest of the four possible ratings. "This is a very good result for a first assessment" advises Violette Debenay. "A CSR strategy requires mature reflection and implies new initiatives, but does not contain control requirements as in a quality management approach. Therefore, ISO 9001 is an advantage for SODEGIS, because it enables the organization to consistently implement and perpetuate CSR best practices, so that they become a part of everyday life within the company."
Assessment as a means of constantly moving forward
Several opportunities for improvement were identified during the assessment and have already been translated into new objectives, such as working on the CSR indicators, carrying out an in-depth analysis into the assessment's findings and benchmarking with other local and national social landlords. The highly positive initiatives identified by the assessor included the creation and leadership of an open structure for regularly bringing the company's employees and executives together with customers, institutions and any stakeholders wishing to discuss a given issue. "The corporate academy (called PLUS, the constructive academy by SODEGIS) is an effective venue for broadening the brainstorming process," says Violette Debenay, before adding, "it provides a way of finding operational solutions to the problems encountered in the company's rental and residential management activities, and it goes further still by allowing stakeholders to discuss the broader topic of sustainable development in communities in Réunion."
Violette Debenay also highlighted the extremely high level of employee engagement : "I have rarely seen people so involved in their work ; they truly embody their position and are empowered to do the best job possible in helping the tenant, despite not always being straightforward. It is most probably related to the organization's recruitment philosophy : employees are seen as "personalities" who are chosen for their human qualities, rather than for their initial educational background, which is impertinent, original and highly effective," concludes Violette Debenay.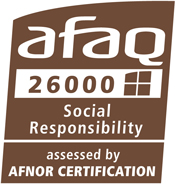 AFNOR Certification proposes the AFAQ 26000 assessment to help organizations assess the relevance and level of maturity of their practices under ISO 26000, the CSR international standard.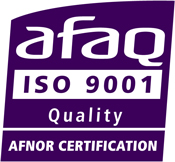 Adaptable to any company, whatever its size and sector of activity, ISO 9001 defines the requirements applicable to quality management for the realization of products and/or services by placing the customer at the heart of your concerns. Within your organization, the AFAQ ISO 9001 certification initiative also enables you to assess potential default risks and to reduce them before customers or other stakeholders do so themselves.