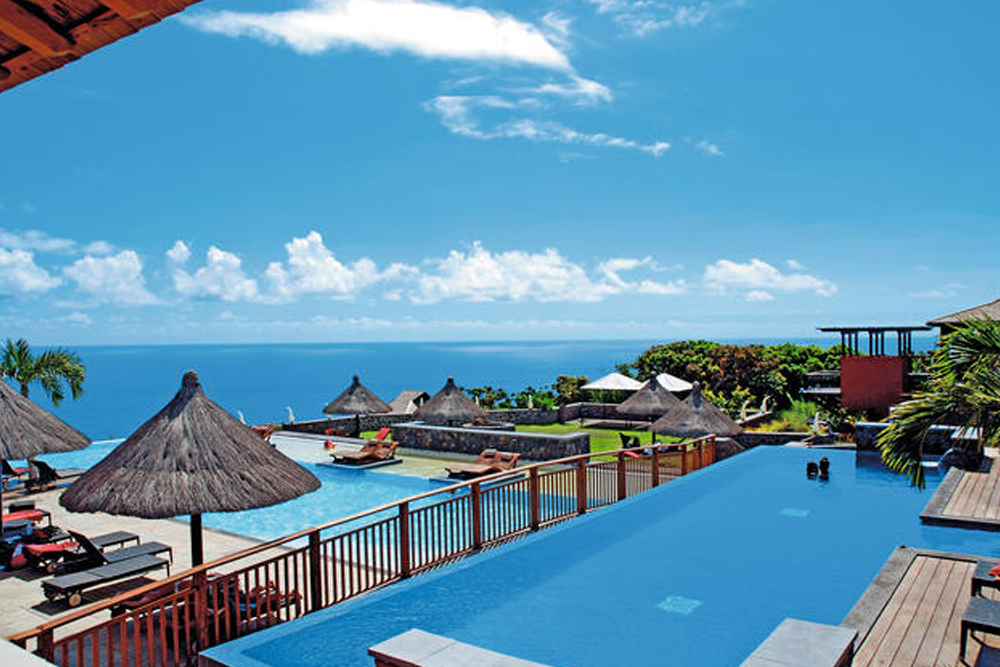 PALM Hotel and Spa ILOHA Seaview Hotel, two Hotels & Co establishments, are the first in the entire Indian Ocean and more generally France's overseas departments to obtain the EU Ecolabel. This strategy has created a more tight-knit workforce and generated a real driving force as noted by the AFNOR Certification auditor. Suppliers are subscribing to the approach.
"The EU Ecolabel gives our environmental policy an official seal of approval," explains Quality Manager Olivier Menoret. "We are fortunate enough to live in an exceptional natural environment. In 2010, Reunion Island was designated a World Heritage Site, and 40% of its territory is a protected natural area. Right from the beginning, we wanted our hotels to blend seamlessly into the lush natural surroundings." In Iloha, the bungalows merge into a three-hectare park. The rooms and suites at the PALM Hotel & Spa are in the form of villas made from such materials as timber. Furthermore, solar panels are used to produce hot water for the spa, kitchen and laundry room. Setting up a high-performance electrical power transformer has saved significant energy.
GOOD PRACTICES REPLICATED IN THE PRIVATE SECTOR
To obtain the EU Ecolabel: "We decided to train the entire workforce," says Olivier Menoret. "The approach grew in step with all our employees and forged closer ties between the teams."
One example includes waste recovery and treatment. Hotels & Co started by enlisting a specialized training organization to raise awareness among the employees and teach them the everyday gestures for sorting waste more effectively. Each department then thought about how it could reduce the amount of waste produced and improve recycling. The kitchen crew quickly came up with the idea of composting. The technical services began putting all batteries and lightbulbs to one side. Today, even cloths are recovered for recycling.
"Without our employees' involvement, we would never have obtained the EU Ecolabel," advises Olivier Menoret. "Furthermore, the AFNOR Certification auditor seemed highly impressed by our employees' engagement with the approach." Muriel Lacroix, the AFNOR Certification auditor, confirms: "An audit has never taken so long, because the people in each department wanted to speak to me, show me what products they were using, how they sorted waste, and so forth. Many of them told me that they did the same thing at home. It is the first time that I have seen such dedication and determination to protect the island," she said enthusiastically.
THE APPROACH HAS ALSO CHANGED THE PROCUREMENT POLICY
The procedure has been modified to prioritize short supply chains. In addition, Hotels & Co has chosen one of the Ecolabel's optional criteria of promoting organically-farmed produce in the dishes featured in its menus. Both hotels have undertaken to work with and deliver financial support to one of the island's organic market gardeners. The aim is to ultimately source all market garden produce from this farmer. Another example is that the company has asked its supplier of absorber paper products (toilet roll, kitchen roll, etc.) to provide products bearing the EU Ecolabel, which it now does for all its customers. "Suppliers have clearly understood where we are coming from with this approach," advises Olivier Menoret. "It encourages them to put their own practices under the microscope."
A true snowball effect.
AN ADDITIONAL MARKETING ADVANTAGE
In addition to environmental issues, Hotels & Co is also striving to develop its social responsibility.
By setting up at the southern tip of the island, PALM Hotel & Spa has created jobs in this part of Reunion Island, and the company actively pursues a policy of recruiting disabled workers. The hotel employs over 100 people, most of whom from Petite-Île or the neighbouring towns and villages.
Hotels & Co has managed to forge close ties with a number of local economic stakeholders, suppliers and service providers. PALM is a leading participant in local life. Through its business networks and its participation in countless national and international shows, the company is actively driving the development of the southern part of the island and Reunion Island in general.
"Environmental hallmarks are very much in fashion," explains Olivier Menoret. "But we have chosen the most demanding and recognized label in all the EU Member States. Furthermore, it is issued by AFNOR Certification, which proves its credibility. The Ecolabel has given us an additional marketing advantage."
Such an accolade is a distinct advantage at a time when more and more tourists are looking to combine their holiday with sustainable development.
EU Ecolabel
The EU Ecolabel is the only official ecolabel recognised throughout Europe. In France, it is delivered by AFNOR Certification. This is a voluntary label of goods and services certification. It helps you identify products and services that have a reduced environmental impact throughout their life cycle, from the extraction of raw material through to production, use and disposal.
Find out more about EU Ecolabel
This post is also available in FR.