Specializing in on-board electronic equipment for the Defense sector, Matra Électronique must be able to meet its customers' exceptionally stringent requirements. It has thus developed an integrated multi-standard system, certified by AFNOR Certification since 2014.
Since 1975 Matra Électronique has produced on-board electronic equipment for missiles and defense systems. The company has progressively extended its activities to other specialist fields such as Aerospace, Health and Oil & Gas prospection. What do these sectors have in common ? The extremely high level of requirements in these markets. "Customer demand was the starting point for our ISO 9001 and EN 9100 quality approaches for Aerospace, and then AQAP 2100 for Defense" confirms Quality System Manager Ludovic Bernard. "And so process based management came to be anchored in the company's culture, developing into a fully integral element. Today the site's operation is firmly based around the Quality System." The system was supplemented in 1999 by ISO 14001 Environmental Certification. Matra Electronique chose to construct an integrated management system, combining the elements common to each standard while respecting the specific requirements of each area.
IMPROVING, CONTINUALLY
Very quickly, a dual challenge became apparent : how to gain the support of employees and integrate the approach into everyday business ?
"We had to anchor Quality Management in concrete aspects" continues Ludovic Bernard. "And so all our monitoring indicators are customer and product oriented, such as monitoring of delivery times and return rates." "We also use visual management techniques," adds Cécile Beau. "The quality objectives are set out on noticeboards in our workshops with photos of non-quality posted. And indicators are designed to be as closely associated with the business lines as possible: for example, on-time delivery corresponds to workshop processing time."
Continuous improvement in results demonstrates the efficacy of this approach. "The product return rate improved from 4% in 2009 to 1.3% at the end of 2014. On-time performance has also improved with the service rate rising from 85% in 2009 to 93% at the end of 2014," gives Cécile by way of example.
KEEPING FLEXIBILITY
To reach this level of performance, the team has had to overcome a few difficulties. "The problem at the start stemmed from our desire to develop an entirely integrated system – recalls Ludovic. We had to work at getting everyone to adopt the same approach, and raise awareness about each person playing a role in efficient operation of the system."
There was also the question of how to handle requirements that cannot be integrated into the system : "In fields like aerospace and health, certain customers make requests that would be too onerous and costly to generalize" explains Cécile. "We had to deal with this specificity by developing a system as fully integrated as possible but still capable of retaining flexibility and adaptability on a case by case basis."
IMPORTANCE OF GROUND LEVEL AUDIT
For renewal of its certifications in 2014, Matra Électronique chose for the first time to call on AFNOR Certification. "Our previous certification body appeared to be having organizational problems that were reflected in the quality of its service and added value of its audits" relates Ludovic Bernard, who clearly recognizes the change brought about by AFNOR Certification. "The auditors went directly onto the factory floor, into the workshops, so meeting a key requirement for us. Matra Électronique is a production site and so it's essential to involve the employees in certification. The audit must be as close as possible to the products and to those who manufacture them" stresses Cécile Beau.
On the strength of this successful audit, Matra Électronique knows that the company can aim ever higher. "The maturity of the system really does enable us to anticipate our customers' new requirements." "For example, standards have changed in recent years to focus more on risk management and our customers are starting to challenge us in this area," continues Cécile. "And so we are already prepared with a solution."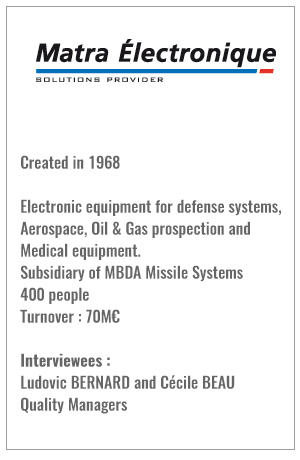 Combined Certification Audits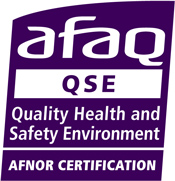 All management systems have key common elements (internal audit, corrective and preventive actions, policy, documentation, etc.). Combined certification audits mean that these common parts only need to be audited once while also focusing on the specific aspects of each standard.
Commonly generalized in the form of certification of Quality, Safety and Environment management systems (QSE), a combined certification audit can adapt to other integrated systems, in particular those including sector based standards (EN 9100, AQAP 2110). This approach optimizes the efficiency of your management systems. The integrated certification audit gives rise to a single audit report that your organization can use as a basis for improving its global system and performance.
Learn more about QSE combined certifications
This post is also available in FR.